Clean Factory Environment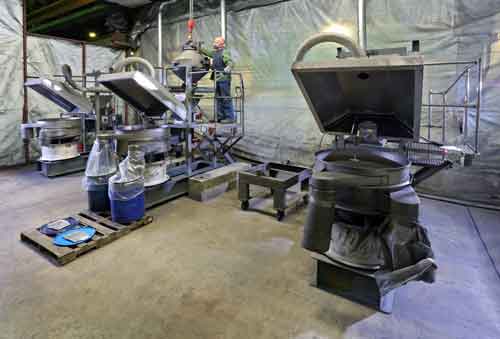 Visitors who come to our factory who have been exposed to many different manufacturing facilities often comment on how clean it is. Insurance auditors, bankers, consultants and customers alike take notice. It has become a source of pride for our company. It takes effort from everyone to maintain a clean factory environment.
Tungsten is Dirty
Tungsten metal powder is a dark gray, while tungsten carbide powder is black. The larger sizes appear more like grains of sand or salt. The smaller sizes are very fine and look like flour. The tungsten dust can spread throughout the factory in the air if it is not contained. If fine tungsten powder gets on your hands or clothing it is hard to get off. It takes multiple washings to get them clean again.
It would be quite easy to say that it is just not realistic to keep our factory clean. After all, it is a few hundred thousand square feet. Instead, we make efforts every day in order to keep up with the challenge. Filtration systems, exhaust fans, floor sweepers and shop-vacs are all employed to keep the tungsten powder at bay.
It isn't perfect, and it is still a factory. I can't say that I would eat off of the floors, but I'm not afraid to take people on a tour. I must admit that it always feels good when people ask how we keep things so clean. When a vistor says that they have been in many industrial environments and they don't see many as clean as ours I like to pass along that compliment to those who do the most to keep it that way.
Customers do not visit our factory frequently, so we do not keep it clean because we need to impress anyone. Not only is it an OSHA requirement, it creates a better work environment for those who work here on a daily basis. It shows that we care about doing things the right way.
Attention to Detail
At Buffalo Tungsten the same diligent, consistent effort that it takes to maintain a clean factory goes into making our products. We give the same level of attention to the quality of our products and packaging. We recognize that these are often the only things that our customers see. They know our company by what they see getting off of a truck at their dock, not by how our floors look. They know the material they put into their process and whether or not the results are what they expect.
The consistent, high quality products that they see all stems from the same attention to detail that we put into keeping the floors clean.