Our Powders.
Your Products.
FROM THE NEW YORK STATE THRUWAY I-90
From the West - Exit 52E Walden Ave East and travel East on Walden Avenue
From the East - Exit 49 Rte 78 Depew/Lockport and travel South on Transit Road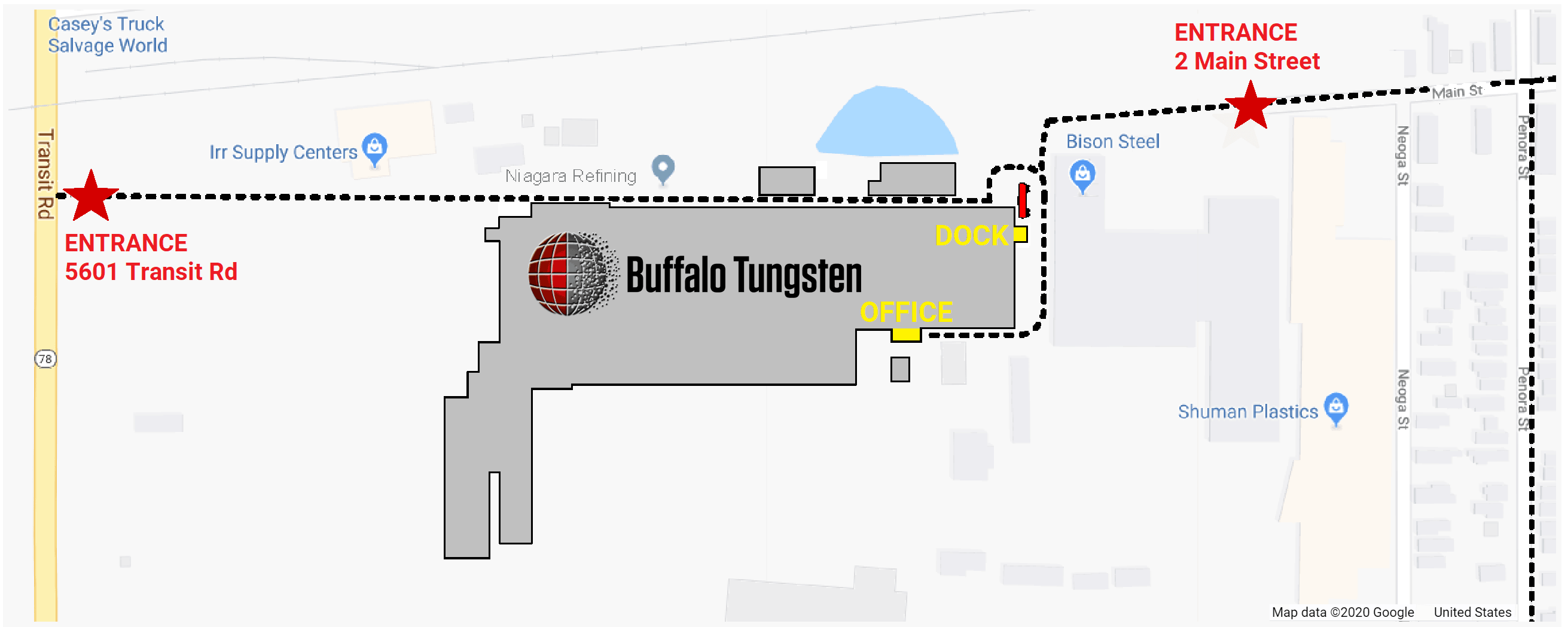 Visiting Buffalo Tungsten
Buffalo Tungsten is located in the heart of Western New York, just minutes from Niagara Falls and the Canadian border. The weather in Buffalo has a bad reputation that is only somewhat deserved. Much of the year is beautiful, with the summer and fall being very comfortable and pleasant. Summers are green and mild with temperatures that rarely exceed 90 degrees. The relative humidity is about 60% most of the year, making the heat index a bit uncomfortable on the warmest of days. There are periods of heavy thunderstorms from the spring to the fall, so an umbrella can be helpful. The fall temperatures are warm during the day and crisp at night, with the changing foliage producing spectacularly bright red, orange and yellow colors. If you visit between November and March be prepared for the potential of wintery weather conditions and the possibility of two to three feet of lake effect snow falling overnight. That much snow is not a common occurence, but check the forecast for the duration of your visit to know what to prepare for. A few inches of general snowfall can be expected more frequently, and if you park outdoors leave a few minutes to scrape ice from your windshield in the morning. Roads are generally cleared and salted within a few hours so driving conditions are usually safe when you exercise caution. You will want to bring a heavy coat and shoes that can go through slush and snow. The average temperatures are seen below in degrees farenheit.
| | | |
| --- | --- | --- |
| Hi | Lo | Month |
| 32 | 18 | January |
| 33 | 19 | February |
| 42 | 27 | March |
| 55 | 36 | April |
| 69 | 51 | May |
| 75 | 58 | June |
| 82 | 64 | July |
| 80 | 62 | August |
| 74 | 56 | September |
| 61 | 45 | October |
| 48 | 33 | November |
| 38 | 27 | December |